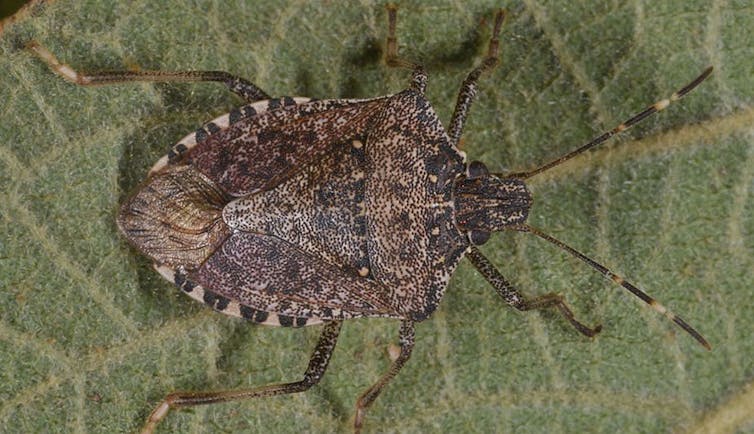 By Romain Garrouste, Muséum national d'histoire naturelle (MNHN) – Sorbonne Universités
OF all places, Paris. In 2012, while writing a book on the Hemiptera order of insects – it includes aphids, cicadas and others – I made a new discovery, and an unwelcome one: a new invasive species in the heart of the French capital, in the Jardin des Plantes.
Halyomorpha halys is a large (up to 1.7 cm) grey Pentatomid – known colloquially as stink bugs. Originally from China, Korea and Japan, they began to invade the world about 20 years ago, travelling thanks to human activities. The standard English-language name for Halyomorpha halys is the brown marmorated stink bug (BMSB), but in France it has also been called the "punaise diabolique" – the diabolical or devil bug – because of its impressive size, fondness for large-scale gatherings and seriousness as an agricultural pest.
Since September 2016, I have detected its presence in several other Parisian gardens in a larval state, meaning that it is reproducing. This is a silent invasion, despite the insect's large size and lack of discretion in the fall, when it seeks to enter homes. It is this behaviour that has given the nickname of "evil": By September 2017, it had become a serious problem in France, with some residents reporting swarms of bugs essentially knocking on windows seeking to enter homes and apartments.
Continue reading "The city-loving 'devil bug' lands in France and continues its march around the world" »